Service King will merge with Crash Champions, according to a Crash Champions internal memo circulating on social media.
Crash Champions Founder and CEO Matt Ebert wrote in the memo addressing employees that the deal is scheduled to close at the beginning of August, with Clearlake Capital Group as the investor.
Repairer Driven News, which has obtained a copy of the memo, has reached out to Crash Champions and Service King for confirmation. As of Thursday afternoon, neither company had responded.
Service King secured $200 million in new capital and cut its debt by more than $500 million in a May 31 agreement that made Clearlake Capital Group the majority owner of the collision repair chain. At that time, and according to current locations listed on Service King's website, there are 330 locations in 24 states and the District of Columbia. Once combined, the purchase of Service King will grow Crash Champions locations to 550 in 35 states and Washington D.C. Crash Champions has expanded its footprint with shop acquisitions in several states throughout this year and 2021, according to the company's website.
"First and foremost, I want to make clear that this will be a true game changer for team members of both organizations," Ebert wrote. "It will be an exciting part of the growth story for Crash Champions—which will remain a founder and operator-led organization—and will provide a new direction for Service King teammates to get excited about as well."
Ebert also said he will take the helm as CEO of the combined companies after closing alongside the Crash Champions management team, Clearlake, and select members of Service King's leadership team.
For now, Ebert said, it will be "business as usual" for all Crash Champions and Service King locations and employees. Integration plans are in the early stages but he said one thing is for certain — more personnel is needed at the shop level.
"This fact should underscore the importance of retaining talented team members for our long-term success and give you confidence that we still need the best and brightest people at our organization. I can promise you that we will be transparent throughout this process and keep everyone updated."
Ebert also assured employees that Crash Champions values retaining current employees as part of its "goal of being the best place to work in the collision repair industry."
On May 3, Service King was "actively seeking hundreds of teammates to help transform the way collision repair operates and set the standard for how customer service is performed" across all of its U.S. locations. The company also unveiled a new 13,600-square-foot LEED-certified body repair shop in San Antonio, Texas on June 23.
Focus Advisors Managing Director David Roberts told RDN that the transaction forms the third largest national consolidator and described the merger as "the biggest event in the industry since Caliber and ABRA merged three years ago."
"From a 'dots-on-a map' perspective, this is a really excellent matchup between the companies," Roberts said. "The footprint for Crash Champions very much complements what Service King has already established. Service King is super strong down in Texas, very strong up in the Pacific Northwest, reasonably strong in Florida, strong in the D.C., and Philadelphia metro areas, and very strong in the Chicago region."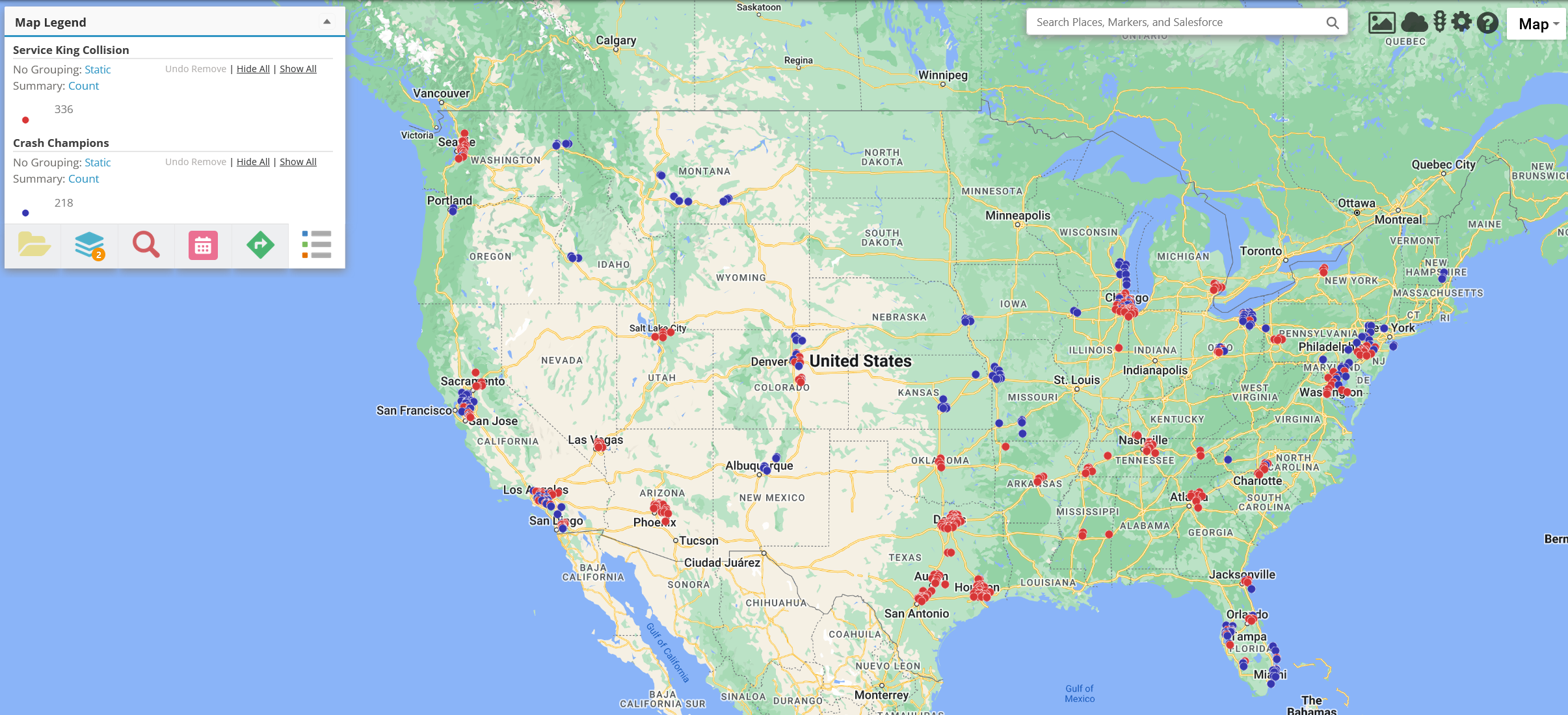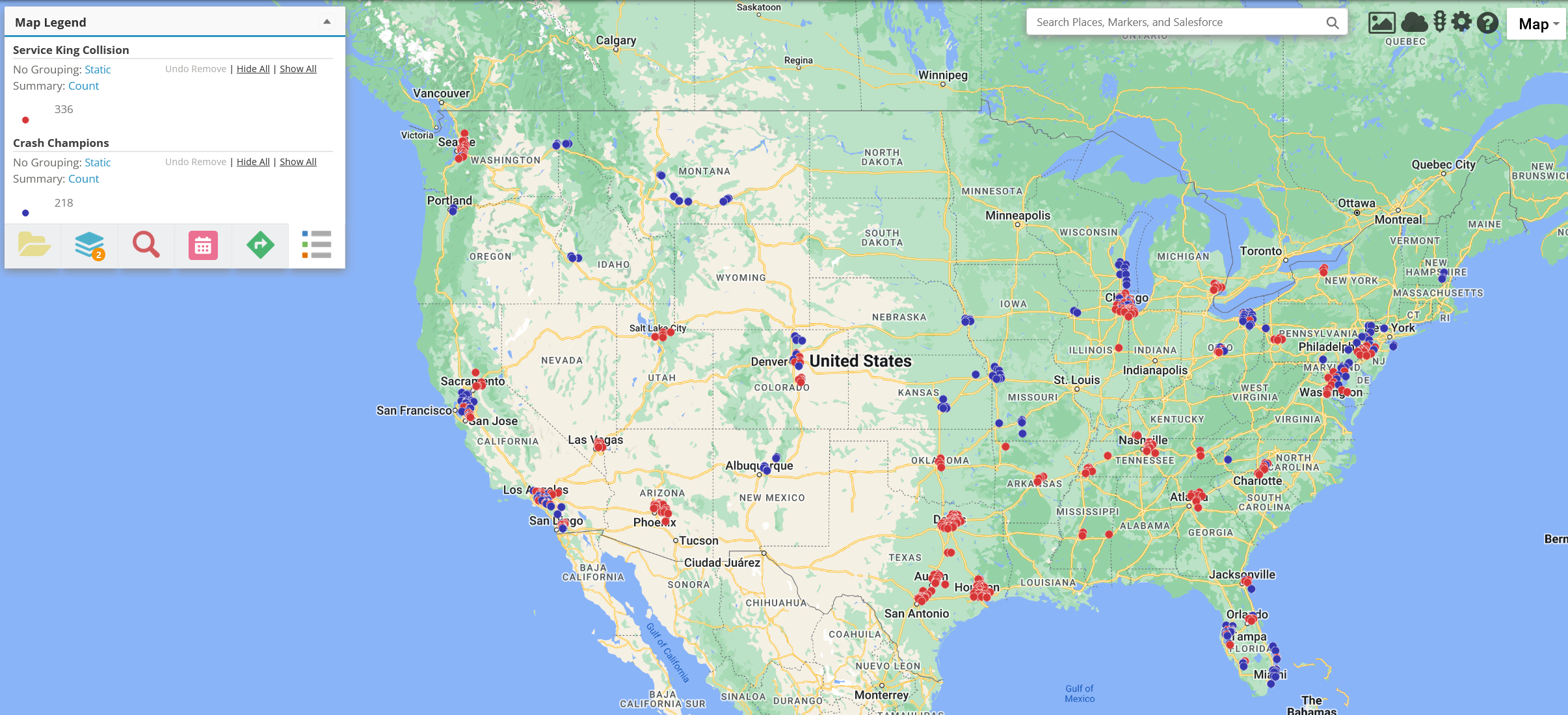 Crash Champions has been building out across the country and is well established in Florida, has large and excellent shops around Chicago, and a strong position in Colorado and Montana, according to Roberts. "With their recently announced acquisition of Mike's Auto Body, they have a very strong position in Northern California. While Service King doesn't have a lot of shops there they have really large shops in the South Bay."
Down in Southern California, Roberts said Crash Champions "has a number of good locations to complement the core Service King locations there" where Caliber is also strong, leaving the merged shops "a very distant second to Caliber." The merger will give Crash "a big position" in Arizona as well where they currently have very little, he said.
"They're now very much a national competitor to Caliber and Gerber," Roberts said.
However, he added, "there are a lot of unknowns in this," including the plans for integrating management, marketing, and insurer reactions. He noted that there are more than a dozen former Service King managers and executives that now serve in Crash Champions senior and mid-level leadership.
IMAGES
Featured image credit: Crash Champions
Map created and provided to RDN for publication by David Roberts
Share This:
Related