A man who destroyed his stepdaughter's piano and faces an ultimatum from his wife has sparked fury on the internet.
The mother under the username u/SUDDEN-IMPACT-3097 shared her story to Reddit's notorious r/AmITheA**hole forum in hopes of getting the opinions of many to determine if she was in the wrong. The viral post has over 14,000 upvotes and 3,000 comments.
The Reddit user began by explaining that she got remarried and has been in that relationship for about 2 1/2 years. She has a 13-year-old daughter named "Callie" from a previous marriage; her prior husband passed away when Callie was 7. Callie plays the piano and loves instrumental music. The poster spoke highly of her daughter and encourages her to play. Callie uses the piano to express her emotions and felt that she really connected with her father when she played. Callie's grandparents spent $6,000 on the piano.
The mother wrote, "The whole family encourages her but my husband thinks she's being distracted from school, real future etc. He doesn't attend her plays, doesn't help with the academy, doesn't even take the time to listen to her playing and everytime he comes home and hears her playing upstairs, he'd lecture us about how this activity is just a waste of time."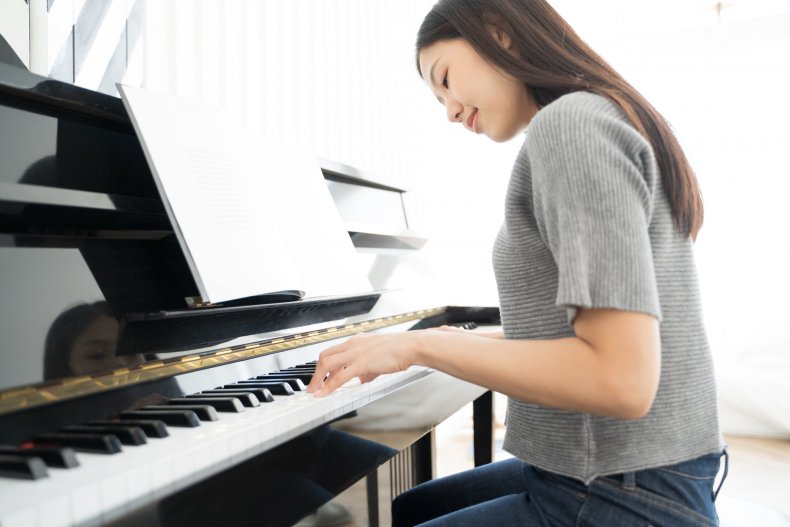 "I sat him down and told him about Callie picking up on that bad vibe, he got mad and said that he was doing my job for me and ensuring she doesn't get distracted from school although her grades are good. We went back and forth on this and I made it clear that this should stop. He said okay and that was the end of it," she continued.
One day, the OP's (original poster) husband was awakened by Callie playing the piano on his day off. He told the Reddit user that either the piano was moved or he would get rid of it himself. He suggested moving the piano to Callie's grandparents' house, but Callie wanted her piano to stay put. After the OP and Callie left the house, the OP found out that her husband took the piano to his family's junkyard and cut the piano "into pieces."
An argument occurred that involved screaming in front of his family. She told him that he had two days to get her daughter a new piano. He began apologizing, saying that he "acted in a moment of desperation and frustration." He told his wife that he would have to use his savings that he was originally going to use toward a new garage. He also blamed her for "ruining his business before it even starts."
His family urged the OP to give him four months to buy a new piano but she isn't going back on her word of two days. She explained that she is being called "unreasonable" since her husband wants to spend his savings to start a new business.
Newsweek reached out to u/SUDDEN-IMPACT-3097 for comment.
Are you currently trying to find your way out of an abusive relationship? There are many resources and tips to help you. What are the signs of abuse in a relationship? According to new-hope.org, typical signs of abuse include jealousy, controlling behavior, unrealistic expectations, verbal abuse and threats or acts of violence.
How can you get out of a relationship if you live with the abuser? According to lifewire.org, it is important to have a safety plan and take all important records with you, including IDs, passports and credit cards where the abuser can't find them. Tell someone you trust what's going on just in case. Find somewhere safe to stay, block the abuser and change your passwords.
Some resources that can help domestic violence survivors are the Domestic Violence Hotline at 800-799-7233 or text START to 88788. If you have nowhere to go, there are domestic violence shelters.
While Redditors assailed the husband, others called out the OP for even considering staying in the relationship.
"You need to leave this relationship," u/Jaded_Golf6256 warned, receiving the top comment with over 20,000 upvotes.
"For your daughter's sake! He cut what she held dearest to her to pieces! That's fn' abusive. There is no fixing this. It's your job as a parent to protect her from this," u/theaterwhore replied to the comment above, receiving 10,000 upvotes.
"[Not the a**hole] for the question about demanding he pay for what he damaged. But [you're the a**hole] for staying with a man who would act this way to your child," u/JoshDunkley wrote.
"YTA for not protecting your child from what is clearly an abusive adult in her home," u/squirrel118 exclaimed.
"[Not the a**hole]. He was being spiteful on purpose. I would go back to the ultimatum, the piano can stay (once it's replaced) and useless bad vibe husband can go," u/tippytappy04.
"Take money and divorce. This is pretty awful. And pianos are heavy as hell. He had to call for at least one friend to help move it out and put it on the truck/pickup. So he had time to think about his actions. [Not the a**hole]," u/bizanka said.